APPRAISAL
NEW 2016! Robert E. Bainbridge, MAI and J.Casey Pipes, Esq. will participate in a panel discussion on the valuation of convenience stores during the 2016 ALI-CLE Eminent Domain Conference in Austin, Texas from January 28 to January 30.
APPRAISAL
Dallas, Texas
October 6 - 7, 2014
Robert E. Bainbridge, MAI will be presenting at the 2014 CLE Eminent Domain conference in Dallas to be held October 6th through October 7th. His topic will be "Convenience Stores and Trade-Related Property: Special Valuation Issues in the Application of the Income Approach", exploring the current debate and appraiser's perspective on the utilization of market rent versus earnings-based capitalization procedures in the appraisal of convenience stores and other trade-related real estate, such as fast-food restaurants, car washes, motels and travel centers. Mr. Bainbridge is the author of the Appraisal Institute's text, Convenience Stores and Retail Fuel Properties: Essential Appraisal Issues.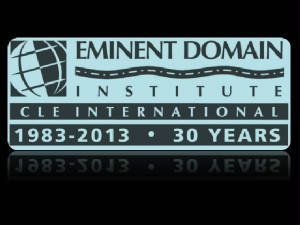 Austin, Texas
February 11 - 12, 2013
Robert E. Bainbridge will be presenting "How to Correctly Appraise Convenience Stores in Condemnation" at the 12th Annual Eminent Domain Superconference, sponsored by CLE International. The unique nature of convenience store and gas station appraisals will be explained, along with a discussion of the strengths and weakness of the three valuation approaches applied to these types of properties. Special location considerations for convenience retail real estate will be explored along with examples of valuation resources available to appraisers.
A conference brochure is available by clicking the link below
AAA
AAA
Scottsdale, Arizona
February 4 - 6, 2010
Mr. Bainbridge will be a featured presenter at the American Law Institute | American Bar Association (ALI - ABA) "Eminent Domain and Land Value Litigation" Conference in Scottsdale, Arizona scheduled for February 4th through 6th, 2010. He will be speaking on the topic of "When Access and Use are Inextricably Tied: The Case for Greater Compensation for Convenience Outlets That Suffer Access Impairment".
Not all access resolutions are "reasonable" or "convenient and adequate" as many courts have concluded. This will be the first presentation of its kind that substantiates and documents the increased accessibility required by convenience retail properties, such as gas stations, convenience stores, car washes, and fast-food restaurants. These types of properties are entitled to greater compensation for damages when access or visibility is impaired through an eminent domain action.
AAA
A collection of articles cited in this presentation is available for downloading through the link below.
AAA
Please Click Here to Download a Printable Flyer for this Speaking Event.
Please Click Here to Download the ALI | ABA Presentation and Related Readings
X
X
X
X
X
X
X
X
X
X
X
X
Mr. Bainbridge will be teaching "Land Valuation Workshop" for Shell Downstream, Inc. (Royal Dutch Shell Group) in Kuala Lumpur, Malaysia scheduled for September 15th through 17th, 2009. This program will instruct Shell's retail real estate personnel in the fundamentals of International Valuation Standards and the principles of real estate appraisal as applied to retail land.
Vancouver, British Columbia,
Canada
Mr. Bainbridge will be teaching "Appraisal and Valuation Seminar" for Shell Downstream, Inc. (Royal Dutch Shell Group) in Vancouver, Canada scheduled for December 17th through 18th, 2008. This program will be presented to Shell's North American real estate team with instruction in the principles of real estate appraisal and valuation as applied to retail petroleum properties and retail land.
Mr. Bainbridge will be teaching the Appraisal Institute's seminar, "Appraising Convenience Stores" for continuing education credit for experienced commercial real estate appraisers. The Appraisal Institute is the world's largest publisher of real estate valuation literature and confers the "MAI" and "SRA" professional designations.
Including instruction on the convenience industry, hypermarket competition, trade area analysis, supply and demand, and intangible asset value, this is the only nationally-accredited course on the appraisal of convenience stores and gas stations.
Click the EDUCATION AND TRAINING tab for more information.
Please Click Here to Watch a Video Introduction to the "Appraising Convenience Stores" Seminar. (5 min).