Pretax Profit Per Store: The Bottom Line
Of all the metrics published by the convenience industry, perhaps the most significant is "pretax profit per store". Here lies the unvarnished truth. The average industry pre-tax profit per store is the most reliable measure of the health of the industry. When tracked over time, it tells us in undeniable terms which direction the industry is headed. This number reflects everything discussed above, sales, inflation, gross margins, credit card fees, etc.
Remarkably, the convenience industry weathered the Great Recession with 4% annual increases in pre-tax profit per store since 2007. This achievement is largely due to the industry's ability to increase food service sales during a period when motor fuel sales were declining. The increase in pretax profit is explained in the 2012 Industry Report:
"Because profit margins are much higher inside the store than on motor fuels, the gains in in-store sales had a positive impact on industry profits. Total industry pretax profits increased 4.1 percent to approximately $6.72 billion, or about $46,000 per store."
2012 CS News Industry Report
Pretax profit per store averaged $46,066.00 in 2012, up 37% over the last five years.
Please Click Here to View "Supply and Demand Video (5 min).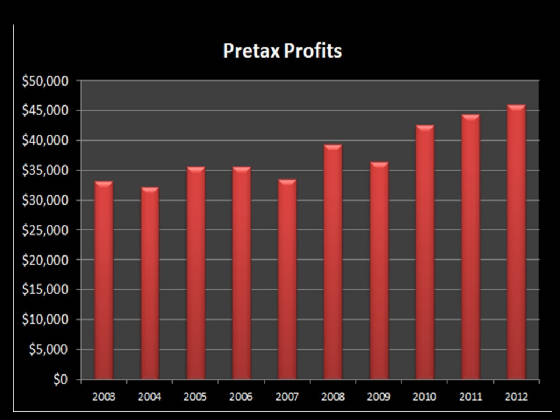 Store Count Growth Trends
One threshold of demand for convenience stores is population levels. Higher population-to-store ratios are better for the industry. Because store growth has been outpacing population growth over the last 10 years, the population-to-store ratio has been declining. In other words, today there are fewer persons per store than there were ten years ago. Population growth is a fundamental measure of retail demand. So, with fewer potential customers, store operators much increase profitability to survive. This is the reason more emphasis is placed on higher-margin in-store sales today.
Convenience Store Development
Convenience Store News[1], reports that 70% of stores across the nation are owned and 30% are leased. The average lease rate is $5,090.00 per month. The average store size today is 2,836 square feet, although some companies continue to experiment with larger-store formats, such as Wawa's 7,400 square foot prototype.
The average annual rent per square foot is $21.54.
Two percent of all stores across the nation were remodeled last year with an average cost per remodel of $200,000.00. On average, c-stores undergo remodeling every 7.2 years.
---
[1] 3 Convenience Store News is published by VNU Business Media, New York, NY and is one of the leading convenience industry trade journals.
Historical Price Movement 2010 to 2014
Convenience store real estate prices are rising. In the first half of 2014, the average price of the real estate associated with convenience stores was $1.3 million. This includes the site, store building, and fuel service. This is an increase of 13% from the 2010 average price.
The median price showed a similar increase over the same period of 9%.
CoStar's Commercial Property Resale Price Index (CPRPI) indicates that retail property prices began stabilizing in 2012. We do not anticipate systemic price declines over the next 24 months.
(Source: CoStar)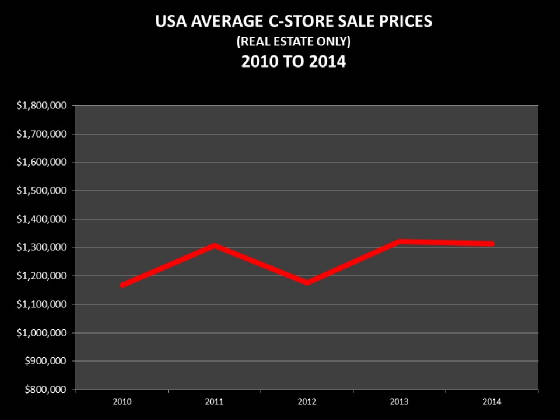 Capitalization Rates: 2004 to 2013
Real estate capitalization rates for convenience stores have varied from a low of 6.8% in 2004 to a high of 8.1% in 2009 to 2010, a range of 130 basis points. The average over the period has been 7.5%.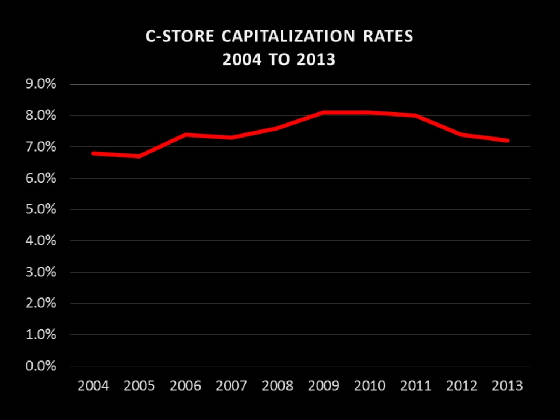 c-store appraisals
c-store appraisals
COPYRIGHT© 2015 C-Store Valuations